If server 1 doesn't work please use server 2 or Wait 20 second to load Thanks for understanding.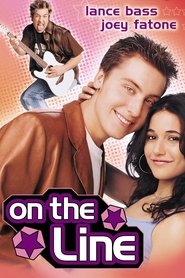 On the Line
'N Sync heartthrobs Lance Bass and Joey Fatone stretch their thespian muscles in their acting debut. A young man (Bass) is smitten with a girl (Emmanuelle Chriqui) he meets on a subway train and spends the rest of the movie trying to reunite with her. The man's best friend (Fatone) helps him in his quest by wallpapering Chicago with posters and signs that soon become the talk of the town.
Genre: Comedy, Family, Romance
Actor:
Al Green
,
Amanda Foreman
,
Dan Montgomery Jr.
,
Emmanuelle Chriqui
,
James Bulliard
,
Joey Fatone
,
Lance Bass
,
Richie Sambora
,
Tamala Jones
Director: Eric Bross
Country: USA